Description
Anti-terrorism / gas mask with many features of the SGE 400 and SGE 400/3 gas masks.
The SGE 150 Gas Mask has multi-purpose applications. The following are their main characteristics:
• Silicone face seal
• Single front filter connection
• Polycarbonate ballistic visor
• Light weight
• Compact large field of vision
• Easy Maintenance
How to pick the correct size for your protection mask
Selecting the right size for your Gas Mask is essential in order to prevent any leakage or discomfort.
Mestel created a size chart that can help you find the right fit for you.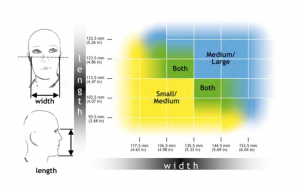 Accessories
Compatible with all the Mestel Safety accessories: hoods, drinking devices, optical lens support, speech diaphragm.